HOLISTIC HEALTH CULTIVATION CENTER
Genuine Qi Gong could help overcome serious internal injuries.
Lester is a young business man in his late 30's, who presented at the HHCC with severe breathing problems and chest pain. He informed me that he had explored many other options to help overcome his breathing problems and that he had some reservations as to whether I could really help him overcome his difficulties.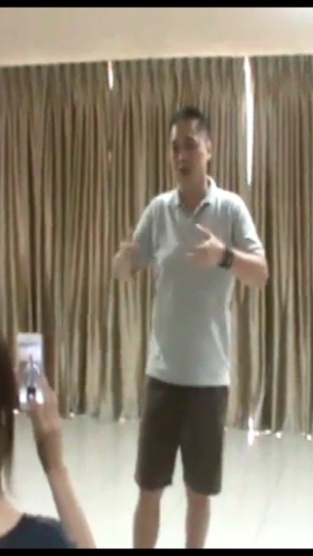 He explained to me, that he been referred to the HHCC by a massage center in Puchong which is a small town in Selangor state (The owners of the Massage centre are not known to me personally).
Lester informed me that for the last 3 years he had frequently attended the Puchong massage center for therapy. One day the owner of the massage center recommended that Lester should visit a powerful Qi Gong master and that he had heard of a very good Qi Gong healing center called the HHCC in Kuala Lumpur.
Lester in his late 30's he was injured by a Qi Gong master and had been having difficulty in breathing. Every working day he could only managed to work till noon , file photo in HHCC, 2016.
The owner of the massage centre was very honest with Lester and informed him that the massage therapies could ease his external problem, but deep internal injuries such as his would require powerful Qi Gong.
Lester informed me that he had his breathing problem about 3 years ago, when one day his friend introduced him to a Qi Gong master from Taiwan. Whilst drinking tea and enjoying a casual conversation about Qi Gong, the Master claimed that his Qi Gong is very powerful and that it could be used for healing as well as for fighting. The way Lester responded was very direct, but not offensive and it could have been perceived by the Master as challenging whether his Qi Gong his real or not. The Qi Gong Master was displeased by my Lester's remarks, the Master stood up and used his hand to struck Lester's upper body and he felt a sudden shock and some pain in the chest. However the Master and Lester's resolved the incident peacefully and continued talking as they finished their afternoon tea and eventually they parted and went their separate ways.
After a few days after this encounter Lester became aware of a sharp pain in his chest, which quickly became more and more painful and he was experiencing considerable difficulties with his breathing. Lester made several attempts to locate the Qi Gong master, but discovered that he had left Malaysia and it turns out that his friend did not have his contact address in Taiwan. Lester who was by now experiencing considerable discomfort, initially sought help from a Western trained doctor (specialist). The specialist examined Lester and X Rayed his chest, however the specialist was unable to find anything wrong with him. Lester then tried many other alternative treatments, including Traditional Chinese medicine, Acupuncture, Yoga, Cycling, working out in the Gymnasium, etc, but he was still unable to solve his breathing problems, or able to obtain any relief from the chest pains. As time passed by his condition worsened almost every day, it was now affecting all aspects of his life. He could only work for about 4 hours a day and by noon he would have to leave the office as he became exhausted and too tired to continue working. Hoping to maintain some level of physical fitness Lester continued to exercise, going to the Gym, cycling, swimming, whilst continuing with the massage therapy.
The first time that I met Lester, he did not look like a man in his late 30s, he looked more like a man in his 50's, he was pale and appeared very tired and listless.
After examining Lester, I started Qi gong healing for him by opening his vital energy points and transmitted Qi to him, at the same time I taught him some important Qi Gong exercises to break through the blockages around his chest, After about 2 weeks of Qi Gong healing, Lester informed me that "He could breath more easily and was feeling more energetic". After less than 4 months he was totally transformed and had fully recovered from his problem. Not only had he recovered from his sickness, he has a considerable amount of energy to spare. Several years have now passed since his full recovery and in this time Lester's business has improved tremendously, his business (company) has now becomes so large that he is often required to travel outstation/overseas and is frequent called upon to attend many late night functions. He informs me that despite this very hectic and demanding schedule, every morning he wakes up fresh and full of energy. Lester is now a very successful property developer and running many projects across Malaysia and oversea. (please see video testimonial)
Dr Foong Tuck Meng Article No.9