WELCOME TO
Holistic Health Cultivation Center
To be Healthy is Natural
Qi Gong healing for Overcoming so Called "Incurable Diseases"
Prevention of Sickness, Maintaining Good Health and Vitality
Enjoy Peak Performance and Longevity
Our Latest Post …….
WHAT IS GENUINE QI GONG?

IT IS AN ART OF ENERGY THAT COULD BE USED TO HELP PEOPLE OVERCOME THE SO CALLED "INCURABLE DISEASES"
Grandmaster Wong and Dr. Foong conducting a Qi Gong seminar in HHCC, August 2018
Today there are a few hundred types of Qi Gong all over the world. Many people may claim that the Qi Gong they practice is the best. Some even claim that their Qi Gong could help to heal diseases. Unfortunately many of these arts are just gentle physical exercise, and it does not develop internal force. Many of the so called Qi Gong practitioners or even masters are on medication.
Genuine Qi Gong is very rare, the major reason was that genuine masters in the past passed down the art, which was a heavily guarded secret, to only one or a few of their selected disciples. We are very fortunate that Grandmaster Wong Kiew Kit, the founder of Shaolin Wahnam Institute, has started to teach genuine Qi Gong to the public. He received the award as "Qi Gong master of the year" in 1997, elected by his peers who were also Qi Gong masters for his remarkable achievement to help many people overcome cancer. He has taught Qi Gong over 35 countries and have more than 86,000 students worldwide. Read more……
Grand Master Wong and Dr.Foong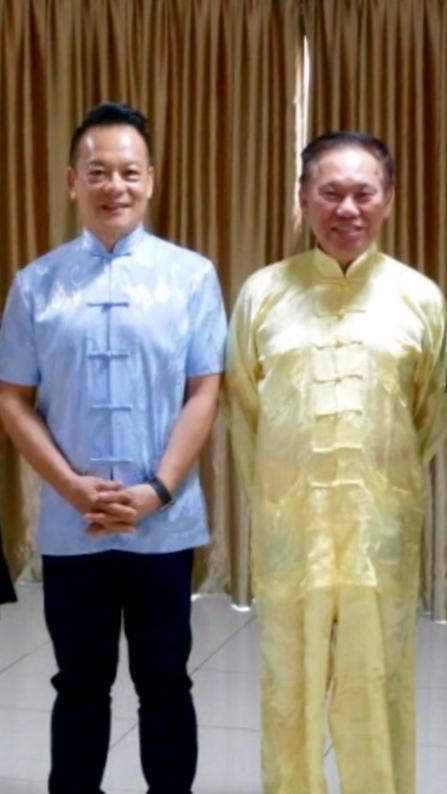 WHAT WE DO
Our Qi Gong Benefit
Overcoming "Incurable Diseases"
HHCC uses genuine Qi Gong healing and has helped thousands of people overcome the so called "incurable disease". Such as Cancer,
Heart Disease, Kidney problem, Diabetes, Kidney Problem, liver problem, Skin disease, Allergies, hormone imbalance,
Anxiety, depression, insomnia, seizure, high blood pressure, rheumatism, knee back & neck pain, vertigo, Parkinson disease,
Asthma, gastric, ringing ears, migraine, prostate, auto immune disease, viral infections etc.
Prevention of Sickness, Good health & Vitality
HHCC provides genuine Qi Gong that promotes triple cultivation, physically, emotionally and mentally (spiritually). With these three aspects of cultivation, a person should overcome any diseases. If a person is not sick by attending our Qi Gong program and practice Qi Gong for 10-15 minutes on a daily basis he or she will be able to maintain good health and vitality. Prevention is better than cure, the best medicine is to avoid being sick. To be healthy is natural.
Peak Performance and Longevity
Our advanced Qi Gong course includes Tai Ji Chuan and Kung Fu respectively. It is excellent for developing internal force, peak performance and longevity. The art is useful to be applied in daily life such as working, businesses, relationship, sports, traffic jam, stresses, etc. Genuine high level Qi Gong is the best way to distress , feel clam, relax and full of energy. It will also strengthen practitioner immune system, promote good cell mutation and enhance a happy & healthy life style.
OUR FACILITIES
The HHCC occupied a 5 story building and a sky garden specifically designed and built for Qi Gong healing purposes. The 3rd floor of the building is reserved for VIP, provide better privacy, comfort and relaxing environment.
VIP AREA
The 3rd floor of the building is reserved for VIP, provide better privacy, comfort and relaxing environment.
SKY GARDEN
The Sky garden located on the 5th floor, planted with beautiful trees and a fish pond. Together with sun screening net to provide a cooling and harmonious atmosphere
SEMINAR AREA
HHCC function room for seminar Qi Gong courses is located at 1st floor which can cater to 50 students..
WHAT WE ARE EXPERT AT
OUR STATISTICS SO FAR
0
Certified Instructors
0
Students or Patients
0
Recovered Case
TESTIMONIALS
WHAT PEOPLE ARE SAYING
https://youtu.be/bde_ORDArcQ


Dr. Jeff
Student
https://youtube.com/watch?v=OZEwGW1cQmk%3Fhl%3Den_GB%26%23038%3Bversion%3D3%26%23038%3Brel%3D0


Ken
Student

Maxican
Student